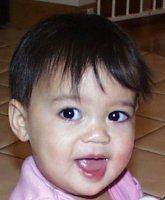 These are the archives of an on-line diary that I used to keep called Mia's First Year. It's about my daughter Mia, and her first year with Jenn and I.
For a year, I tried to write a daily note about Mia's growth, and the changes in our life thanks to her. I stopped writing this diary on April 9, 2002, after she turned one.
Each link on the right takes you to a week's worth of postings. The weekly links are in order from her birth through her first birthday party.
Even though I no longer write about Mia's life in this online diary, and I no longer post pictures of Mia at the Mia Picture Site, I still write the questionable Rick's Ramblings.
Email: rickumali@gmail.com
A portentious fortune cookie for Mommy Jenn.
Birth announcement for Mia.
A visit from Grandma (Mom's side). Sleepless nights. The projection clock. Time management with a newborn (not!).
Elvis and Mia. Belly button. Mia and the mall. Mia's first bath. Umbilical cord 'stump' falls.
Mia watching a soccer match (not!). BabyBjörn Baby Carrier. Ohhs and Ahhs from the dentist's waiting room. Mia crying. Mia's social security number arrives. Mia smiling (we think).
Pacifier. Daddy Rick feeding Mia. Mia and the monitor. A visit from Grandma and Grandpa (Dad's side). A walk with Mia.
Mia napping with Mommy Jenn. Mia crying. Growth charts. Hepatitis shot. Weighing Mia.
Mia and our marriage. Mia calming down. Our first call to the pediatrician.
Saving for college. Child birth reunion class. Mia making noise. Mia slept through the night! Mia winked at Mommy Jenn.
Putting Mia to sleep gets harder. Diapers. Mia (somehow!) continues to sleep through the night.
Thoughts on Mia sleeping. A trip to Grandma's.
Mia meets an uncle (my brother, Ron). Visiting our neighbor's. Pediatrician visit. Tylenol in a dropper, and formula.
Two bottles of formula. Playing more. High chair. Visiting my old office. Stay-at-home-Dads on Oprah. Larger nipples on bottles. Opening a Section 529 college savings plan. Getting into daycare.
First father's day. Whoozit and friends. Going back to work. Less time with Mia.
Baptism. Dr. Seuss. Mia becoming talkative. Mr. Buggity. Report of Mia's first laugh. Changing Mia's diapers in the mall.
Getting Mia to laugh myself. Who is Magdalena? Mia's first two days at daycare. Signs of teething. New noise. Visiting the hairdresser.
Mia rolling over. "The days go by slowly. The years go by fast." Mia's saucer. Tylenol.
Holding her head up well. Day care pals. Sleeping pains.
Meeting Haley. Squealing with delight.
My parents visit. Mia's first 'fever'. Leaving work to take care of Mia. Roseola. Sleeping pains.
Eating more. Pinching Mia with seat strap. Starting cereal. Doctor's visit. Should she 'cry it out'? Fifteen pounds. Heat. Picking up Mia at day care.
Feeding Mia cereal. Sleeping on her tummy. Baby food: peaches and pears.
Visit from Grand Ma Melinda. Drooling. Looking. Sleeping. Talking in her sleep.
Getting to sleep. Sitting up a little. How far we've come. Laughing.
Sleeping pains. Visiting Jenn's Grandmother. Congestion. Consistent 6AM wake up. Aspirator. The only baby at day care. My parent's visit.
Beginning to explore crawling. Rare one hour nap. Mia the loud mouth. The World Trade Center and Mia. Bibs. Seventeen pounds.
Bowel movements. Piano.
Sippy cup. Falling asleep on her own (first time). Sleep struggles. Pediatrician's.
Letting her cry it out. Mia missed me. Teething? Skwish.
New car seat. Ear infection medicine (amoxicillin). Mia sleeping comfortably on her own. Good Night Moon. Babbling.
Grandma's. Eight ounces before sleep. Leaving day care early!
Cousin Lisa visit. Teeth? Trip in my car. Nick names.
Day-light savings. Baby gates. Crawling. Cheerios.
Lowering the mattress. Ear infection medicine (augmentin). Crawling big time.
Diarrhea and vomitting. Bibsters.
Crawling into the saucer. Sitting up. Yelling "No!". Bob (the doll). Pulling herself up (on anything).
Good article on diapers. Teeth? Finding video of Mia. Pulling herself up, and getting down.
Doctor's visit (teething). Drooling. Babbling loudly.
On verge of standing. Saying "no". Fever.
Peek-a-boo! Safety latches. Squirmy while changing. Banging a drum. Attempts at standing. Mia and teeth. Hand painted cup. Sleeping in cubby.
Santa. Christmas gifts. Day care (while Jenn and I stayed home). Diaper rash.
Funnier and funnier. Mia doesn't know "no". Real food. Being patient with food.
Real food. Actually drinking from cup. Fever. Baby playzone. Vomit.
First babysitter. Quiet sleeper. More teeth. Waving bye-bye. Climbing stairs.
Climbing stairs. Cut on her finger.
Nice walk. Spit up schedule. The highs and lows of parenting. Warming Mia's bath towel. Role reversal: Couldn't do it. Stacking.
Teeth aplenty. Jenn's hard day. Crying at night. Chopped up turkey meat for Mia.
Finger foods. Cut on her lip. Ritz. Premium.
Mia sick. Brief walk. Pajama day at day care. Mia's diet.
Mia's good for the in-laws. Mia visits Mall with Mom. Videos. Mia's 11-months old! I'll stop writing this diary. Toys R' Us.
Bad dreams? Gentle. Little toothbrush. Inching closer to standing and awkward walking.
Frumpy at Toys R' Us. Canteloupe. No formula today. Giving Bob love. Fussiness before bed.
Making Mia wake "later". The way Mia plays. Tolerating crying. The Picture Place studio.
Ceiling fan. Baby toys. No more rocking to sleep. Turning my hand up. One year old.
Making noise. Mild rash. Fever. Birthday party.
Waiting for Mia to get better. Just an ear infection.
This was the page I wrote saying goodbye to this BLOG.